Hi! I'm Anastasia and I'm a Pinterest Marketing + SEO Expert at anastasiablogger.com.
I also call myself Blog/Online Business Growth Hacker because in about one year I've grown my first blog to a point when I was able to quit my job. And my second blog reached 74,000 monthly pageviews in under 90 day!

Read the story below to How Pinterest SEO Secrets Skyrocketed my Blog Traffic

---
I started my first blog on Feb 15 2017, and in about 10 months I was able to quit my day job to become a full-time blogger. I could never imagine that Pinterest SEO traffic will help me do it so fast!
So, here is the deal. I worked some 10-years in online marketing (never worked for myself though), and the word SEO (in regards to Google) was no news to me. But the problem of any new blog or online business with Google nowadays is that you face an enormous competition for TOP search results.
Plus, new websites don't have any domain authority and backlinks. To grow these, you need literally YEARS of work. With no guarantees whatsoever.
Pinterest is currently THE MOST blogger- and content-creator friendly platform. If you know what you are doing, Pinterest can send you more traffic than Google, Facebook, Twitter, Instagram, Stumbleupon combined.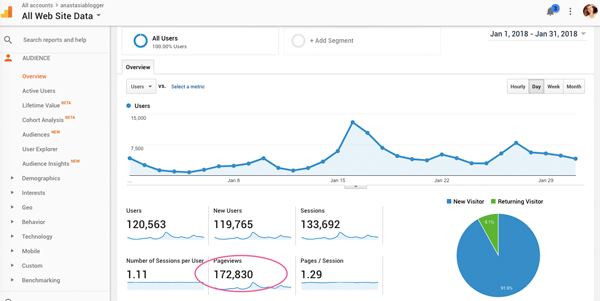 Yep, over 90% of all traffic to my blog comes from Pinterest. Here is one of the good days when a pin goes viral - I've got 93 real-time visitors on the site, of which 83 came from Pinterest. Real-time means almost a hundred users on my site simultaneously.
Pretty impressive, isn't it?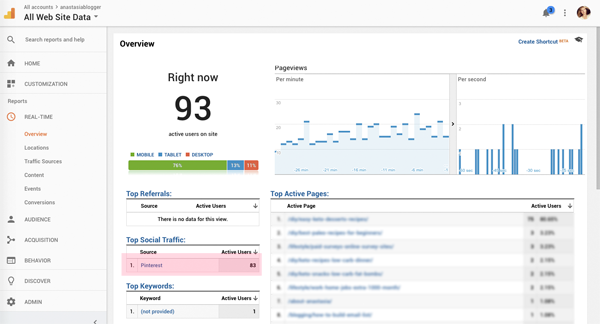 Long story short, I figured out
how to use Pinterest as my primary traffic source
. A totally FREE highly engaged traffic source.
My course is called Pinterest SEO Traffic Secrets because it's is packed with both SEO and MY Secrets, which you will not find in any free Pinterest tips or other courses.